Review of

The Rivan Codex: Ancient Texts of the Belgariad and the Malloreon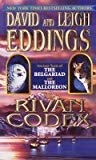 As a fantasy writer, I was fascinated to learn how one of the fantasy genre's most successful writers planned out his novels. I was well aware that Eddings was a formulaic writer, but it was interesting nonetheless to hear about his past in addition to reading the sheer amount of extra material he compiled in order to write The Belgariad.
While interesting, it is all academic, and obviously out of context to anyone who hasn't read The Belgariad or The Malloreon. For those who have, you'll only like this book if you're interested in encyclopedic details more than, say, a rollicking fantasy adventure.